There is always hope shining through.
Do you need proof of the power of love? Have recent circumstances had you in a place of plummeting hope? In the past year, so many have talked to me of stressed or broken relationships and of lives spiraling downward and out of control. There is good news. Not
easy
news...but good news. There are ways to find hope and joy and fulfillment if you make the time and do the work and are diligent to keep the prize ever in front of you.
A woman spoke to me recently about her bitter hatred of a former colleague. She is filled with so much hatred that her body is literally shutting down and she's had to go to the hospital and may end up having surgery. She is not willing to keep her eyes fixed on her goals and her heart towards the people she loves, because of these bitter feelings towards another. Everything else that is good in her life, is falling down around her because she won't place her shattered heart in the hands of God and let Him heal the broken places.
The only way to fully grasp the power of love is to turn inward where God is hiding in our depths. If you are willing to turn off the TV, step away from the computer and be alone with the One who loves you completely, then He can show you those broken places. Imagine, in your mind's eye, that His finger is touching the hurt places in your heart and making them whole. And be honest with Him. Cry out to Him. Tell Him how you feel and own up to whatever you need forgiveness for. The hard part comes in disciplining yourself to make that time to spend with Him. Because He gives us free will, He will never force you to spend time with Him. He waits for you to come.
Another difficulty is being honest and confessing whatever part you play in your heartbreak. Even when another person has completely hurt us, somewhere in there, in our response, in our hatred back, we need forgiveness. You see, we can only control our actions and reactions. And when we focus on that, it takes our eyes off of the one who hurt us and opens up a way for God to touch and heal our wounded soul.
And the final challenge is to focus on those people and things that matter...the ones who are being hurt by our woundedness. When we've been broken, we tend to lash out at those who are innocent and don't deserve to be neglected or attacked. Those who broke us cannot fix us. The power of God's love and healing touch is the only thing that can make us whole. It gives us hope for a future.
If you are experiencing hurt and heartbreak, can you do what's necessary on your part, to get the healing process going? Are you willing to do the hard stuff? I promise, He will meet you there and touch you with the power of His love and begin to make you whole. There is no better hope than that.
I'm joining with Ann Voskamp over at
A Holy Experience
. Visit us over there to see what others are saying about forming spiritual habits that will help you grow.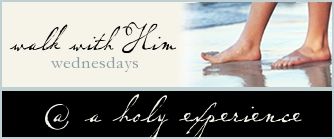 From His lap,