I know you've heard the quote, "What if you woke up today with only the things you thanked God for yesterday." The amount of people, relationships and things we have, that we take for granted is staggering. If we woke up tomorrow without them, we would be struck with the reality of how really blessed we are. This past year has been one of growth and transition for me; spiritually, physically and emotionally. Along the journey I was sometimes tempted to groan and complain about circumstances that seemed beyond my control. In the process, I wasn't always thankful for the gifts I have been given and the grace that has been poured out on me.
As I move towards the new places and faces that God is leading me to this year, my heart's desire is to remain steadfastly grateful and thankful for what I've been given. I'm being stretched and pruned and shaped into a vessel that God will use, if I allow Him. He has placed the people in my life that will help me become that vessel. And I, in turn, will bump up against others and help shape them! All the while, being grateful for the growth, despite the growing pains.
As I look back at the questions I had for God about the whys and the hows, I can clearly see that He was really in control the whole time. I just lacked the faith and the vision to realize how He was moving in my life. I will rest in faith and hope, knowing that He gives me the grace to move forward as He directs and guides my path. All the while, I will be ever aware of what I have to be thankful for. This will be a year of giving praise and honor to the One who has given me much.
So, I continue to be thankful for:
121. A husband who continually does his best to be the man God has created him to be; who cherishes me and encourages me to shine!
122. The unborn grandson who will make his presence in the world known, in March. I'm so thankful that God has formed him perfectly in his mother's womb and He is designing him to be a blessing to all who will know him.
123. The people God has brought into my life who bless me continually with their friendship and support and love! Without these people, my life would seem empty and dull. They add color and depth to the tapestry of my life!
124. A church and pastor who believe in doing life together!! They not only teach, but they walk through the yuck and the stuff and the joys with our community! We love doing life together at
Sanctuary Tulsa
.
125. The creativity that God has put in me. For years I struggled with having enough confidence in who He created me to be. I argued with Him and others that I did not have the gifts and talents that are in me. Now, I acknowledge them, I am grateful for them and I nurture them.
Won't you join me in contemplating all that you have to be grateful for and take note if you've remembered to thank God for it?
I will continue to journey with Ann Voskamp over at
A Holy Experience
as she shares her own and others reasons to be thankful! Won't you join us there?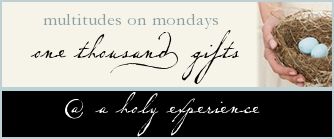 From His lap,