My husband and sons were off in the mountains last week, camping and hunting, which left me rattling around all alone in this big old house. I painted, I wrote, I took baths, went for drives, got away with my girlfriends...all uninterrupted. There were moments that were glorious and quiet (my family is very loud & they love to irritate me with their loudness), but I realized, more often than not, I missed those interruptions.
Families become knitted together, threads all woven into one piece of beautiful tapestry. Our six kids are all so different from each other and the color they bring to the tapestry of our family is vibrant and beautiful and it would be incomplete without them. Strange, how we can long for some alone time, just not too long. Our minds wonder, again and again back to the others, wondering what they're doing, hoping they're enjoying themselves.
Sometimes a family member hits a snag, gets tied up in knots, becomes tangled. Do we just cut their thread out of the tapestry? Our hearts band together as we all slowly and painstakingly help to unravel and make straight the messy threads. Sometimes they can even become so worn in a place that they actually break. That's when painfully and joyfully, we intertwine our threads with theirs until they are whole again.
Families can be messy, tangled and complicated. They take commitment, hard work and dedication. I'm so thankful for the family God placed me in. I was chosen for this family and they were chosen for me! And our tapestry is beautiful, even if it has a few snags and rough places. Take a moment to ponder the color and texture that each member of your family brings to your tapestry!
I'm so glad my men are back from their trip. When I heard them pull in the driveway, my heart sighed and I felt settled again.
My journey of a life of gratitude continues. I'm so thankful for:
113. The rain I hear outside my window that is turning the dust back into earth.
114. The men getting get away by themselves for 8 days, doing what they love to do.
115. Surviving two earthquakes while they were gone with no major damage.
116. A wonderful day away with soul sisters.
117. A resolved conflict with someone who I love very much.
118. Learning to rely on Him more and more, everyday.
119. My praise & worship music that takes me right into the throne room of God!
120. The life of my mother who taught me everything I know about family.
If you'd like to see what others are thankful for, check out Ann Voskamp's site,
A Holy Experience
.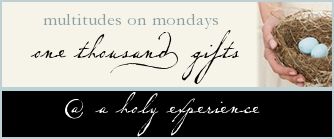 From His Lap,