In the beauty of the day, I walk quietly reflecting on how the air is becoming crisp and cool. I imagine that when Adam walked in the garden with God in the cool of the evening, it must have felt like this. Just as the air is clear, my heart is clear. I'm pierced through and through with a joy that I'm walking with Him in the cool of my day. There can be no other way to walk through this life for me...but with Him.
Here is where my story begins new every day, walking with Him. Blessings settling on me like the dew that blankets the grass where I walk. Like the dew, new blessings came sometime during the night, while I was dreaming. Blessings of life and love and joy. Any sadness of yesterday is washed away quietly and my heart is full and content.
Here is where my story begins, walking with Him. I can tell Him of things that can't be uttered to anyone else. My soul is laid open before Him and that dew comes in and makes me clean and whole and fresh and I thank Him. Thank Him for the redemptive work that He did as I lay sleeping next to him breathing beside me. He just came and did His work quietly; in my heart that longs for pureness, for fellowship.
So I rise and walk with Him in the cool of the day and thank Him...
66. For the cleansing of my soul as I slept.
67. For the cool crisp air as we walk together.
68. For a restful night's sleep.
69. For the breathing of the man who sleeps next to me who loves me more than he loves his life.
70. For peace that came in the midst of a storm in my heart.
71. For the life of the young man in our church who was taken from our midst too suddenly, too young.
72. For telling me truths when I didn't want to hear them.
73. For learning that the very name of Him, YHWH, means breath and when I say His name, I am breathing and when I breath, I am saying His name.
74. For seeing my mom when I look at my face in the mirror.
75. For a chance at a new day with a fresh start and a pure heart.
Did you walk with Him today? If you did, what things did you tell Him you are grateful for?
To read what others told Him they are grateful for, stop by
One Thousand Gifts
and see what they are saying!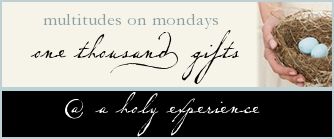 From His Lap,