Yesterday, I did a writing exercise based on my childhood and upbringing. It was fun to go back to my heritage and reminisce on my earliest memories. It got me thinking about my kids and what they would write when they are a little older. I'm so proud of them and want so much for them. As I write my weekly post on thankfulness, I'm spending some time to be grateful for the things in my children that are the handiwork of God!
God has already written on their hearts and I'm so thankful for:
76
. Our 15 year old's dedication and commitment to being at swim practice at 6 am every morning and after school every day. I can tell that he already has a good work ethic.
76
. His tenderheartedness with young children and animals. He has the heart of God.
77.
His love for nature and the outdoors. He will go to the mountains and stay in a tent for as long as you would let him stay. He appreciates God's creation.
78.
Our 20 year old daughter's adventuresome spirit. She can just pick up and go without being bogged down with the cares of this world. She does not need "worldly things" to make her happy.
79.
Her voice of an angel. Well maybe not an angel cause she really belts it out there. But she sings it out all bluesy and folksy and it's wonderful. Her voice is as funkalicious as her wardrobe!
80.
Her desire to be the peacemaker; her attempts for everyone to get along and not have fight or argue.
81.
Our 22 year old daughter's commitment to being a wife and mom. She keeps a spotless home and spends countless hours with her daughters, taking care of their every need. We never worry that our grandchildren are getting enough love!
82.
Her fiercely independent spirit. She's not afraid of anybody and she can do anything she sets her mind to do. Don't dare threaten someone she loves cause she will take you down!
83.
Her loyalty and love. Her heart is pulled towards family and when she loves you...you know it!
84.
Our 24 year old daughter's dedication to becoming a teacher. She loves children and wants them to know how special they are.
85.
Her soft tender heart. She loves all the way and is forgiving and easy going. I love this about her! When you are around her you just feel peaceful and calm.
86.
I'm thankful that she is a little like me in the ditzy department. Some call it naive, some call it gullible, but she's just innocent and pure.
87.
Our 27 year old son's sensitivity. He can sense when someone around him is hurting or in pain. He cannot stand to keep quiet if someone is not being treated well. He always steps up.
88.
His ability to write music, songs, scripts. I love this about him. It's a God given gift. When I listen to the lyrics of his songs, I hear his heart and his passion.
89.
His desire to be a father. He has always
longed to be a father, more than
anything else. His first child is due in March and he
is doing everything he can to be prepared to be a
great dad!
90.
Our oldest son's work ethic. He doesn't have a lazy bone in his body. He would never sit around and refuse to work. I am so proud of him for that.
91.
His kindness towards others. He will do anything for someone in need and would never expect anything in return.
93.
His love of writing lyrics to songs. He has a perception of young people's needs and hurts and knows how to speak to them and to be positive for them through his lyrics. He never judges.
So while they all have scattered like the wind and have their own lives...I'm grateful for what God has put on the inside of them that they carry with them. He shines through each one. I'm thankful that they all know where home is and they can come here anytime. They will never let each other down. They come from love.
Hop on over to Ann Voskamp's
A Holy Experience
to see what others are thankful for this week!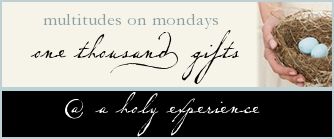 From His Lap,