I met a young woman this week who inspired me beyond measure. It was just a chance meeting. Or was it? Maybe God ordained the time and place for me to meet her. I was in a shop where I sell my greeting cards and I am friends with some of the women who run it. We were all standing at the register talking, when in bounced a cheerful, candy laden woman with a beautiful thick mop of curls on her head. Everyone rushed to say hi and hug her as she stood there handing out candy.
They all gushed over her, telling how beautiful she looked and how wonderful it was to see her. There was such love and adoration in the air that I found myself standing there with a silly grin plastered on my face. Someone turned to me and said, "Erin, do you know, 'Sarah'?" I shook my head no & stuck out my hand and introduced myself.
They coaxed her into telling me her story and here's where the inspiration part comes in. 'Sarah' used to work at the store. She called in sick one day and said the left side of her body was numb and she was having difficulty remembering things. They tried to convince her to go to the doctor. But there had been a heavy snow storm, and living far out in the country, 'Sarah" couldn't get out and emergency workers couldn't get to her.
After a couple of days, 'Sarah' was able to get to the doctor and was diagnosed with a brain tumor. They would have to do emergency surgery immediately. Because of how the tumor had attached to her brain, they were not able to remove it. She followed up with intensive radiation and chemotherapy to shrink the tumor. She lost her hair, thus, the fuss over her beautiful head of newly grown curls.
'Sarah' began to have seizures so they had to find a medication that would bring those under control. Now, as if all of this wasn't bad enough, her husband left her during this time. But I have to tell you...this woman never stopped beaming the whole time she was in that shop visiting with us. She was calm and full of love. I just couldn't take my eyes off of her, all the while, I'm sure,wearing that silly grin. I have never met anyone so full of grace and gratitude and joy! I felt it an honor to be in her presence. Suddenly, the little bothersome things of life seemed so trivial and meaningless.
If 'Sarah' could have that gentle peace and assurance with what seemed like such insurmountable odds, I know I can choose to be more thankful. Somehow, she had found a way to stay in His presence and let Him be in control. She didn't give way to panic or fear. I am honored to have met her and I think it may not have been just a "chance" meeting. Maybe He wanted me to see what real grace and peace look like!
I continue my journey of gratitude. Every day, there are reminders of all the blessings I have in my life to be thankful for:
106. Having the opportunity to meet 'Sarah' and being touched by her gentleness and grace.
107. Knowing that when there's no where else to go, He wants me to come to Him and sit with Him awhile.
108. Time spent with a son who took a walk with me while I took pictures of trees and leaves. He seemed to appreciate the beauty of it too.
109. Homemade chicken noodle soup that really was good for the soul.
110. A surprise visit from an old friend who came to town and showed up at my front door.
111. People REALLY are buying my greeting cards. God, you gave me the confidence when I could find none.
112. Lisa Bevere's book, Lioness Rising, that is radically changing my life.
I hope that you will share with us, the things that you are grateful for. If you would like to see what others are saying about thankfulness, stop on over to Ann Voskamp's site,
A Holy Experience
.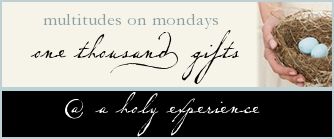 From His lap,