Yesterday our pastor was talking about a transition that our church is making. Change is always difficult for some people, in fact, sometimes they run from it. He spoke of new ideas being birthed out of nothing, sometimes, causing momentary chaos. From there, order and separation takes place, which causes "fruit" or life to happen. If you don't like change, you can become disgruntled or discouraged and leave before being able to partake of the fruit.
So if you are sensing change in some area of your life; work, housing, relationships...don't let emotion cause you to miss out on a blessing. If you stay the course and take the necessary steps, you might be surprised by the outcome. Don't succumb to griping and complaining, don't become one of the naysayers and miss out on the new life that is birthed! If you dig in and become a part of making order out of the chaos, separating things and placing them where they belong, you will find you have something new to be thankful for!
My list of 1,000 things is growing and I'm living a life of gratitude!
94. The changing of 110 degree days to the coolness of autumn.
95. My husband telling me this morning that he would marry me all over again.
96. My daughter getting to visit with my dad and his wife as they
traveled through Florida yesterday.Children spending time with
grandparents never gets old!
97. Another grandchild who will arrive in March.
98. The people in my photography group who have taught me so much without
EVER making me feel stupid or clumsy. They even praise my work!
99. Spending the morning with my daughter in her adorable new apartment,
sharing in her excitment, watching her face beam as she showed me every
little detail.
100. Watching two dear people take their wedding vows and celebrating with them
as they start their journey together.
Stop over at
Ann Voskamp's site
and see what others are saying they are thankful for!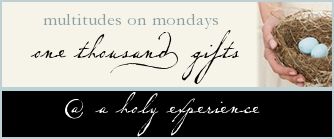 From His Lap,