I was talking with someone today about an unpleasant circumstance that she has found herself in. She told me, "Right now, it's sink or swim for me." I have probably heard that euphemism hundreds of times in my life but I guess I never gave it much thought. But when my friend spoke those words to me today, they pierced right through my gut.
During this time, I immediately pulled myself inward. I went to a safe, quiet place and sat on my heavenly Father's lap. I didn't speak of the issue to others. I didn't run around trying to get advice from anyone who would talk to me. And I didn't stop my life. I literally stayed in His presence every step of every day. I surrounded myself with praise and worship music, with Scripture. Sometimes, when I was alone, I would get down on my knees and cry out to Him in despair, in anguish, even in anger. And then, I would get quiet and listen to my heart.
Dear One, if you have been handed something that's heavy and heartbreaking, don't panic, don't react too swiftly, taking the chance of sinking. But rather, take some time to sit with Him, pour your heart out to Him and wrap yourself in His presence. His love is a balm that can heal any wound and make life sweet again. You are His child and He is your Father. You can stay there, on His lap as long as you want to.
Take some time to visit Ann Voskamp at
A Holy Experience
and see what others are saying about faith.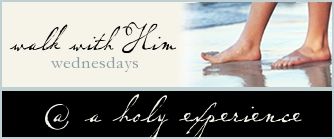 From His lap,