Most of us can easily breeze through a list of things that we're grateful for and a lot of the things on my list would be things that are on your list. God has been so gracious and giving to us that we all know we have been blessed.
We don't often consider that the things in our lives that hurt or refine or strengthen us, are blessings to be thankful for. This week I've been pondering the things that have not necessarily felt like blessings, but have turned out to be just that. If we consider that tough times are an opportunity to move closer to Him and to hear from Him, then we cam look back and see how He caused all things to work together for good.
Sara Gitzen
This week, the world lost a dear soul, Sara Gitzen. Sara was a young woman who reached countless readers with her messages of hope and joy. And she did it all from her sick bed. I would encourage you to hop on over to her site,
Choose Joy
, and read back through her previous posts. As she journeyed through a life of illness and severe pain, she taught us all how to let God into each moment and how to choose joy in each moment of life.
How could she sit in her home, day after day, longing to be able to go outside and to be pain free for just a time and still choose joy? How could she be grateful for life and encourage others to look for the joy in their lives? I will let her tell you that in her own words. I just know that as she stepped from this life into the next, she was free, she could breathe, she had no more pain and she met her Lord with full joy, leaving behind a legacy of people who have been touched by her life, her love and her spirit!
So today, I reflect on things that may have been painful to me in this life; things that I didn't think I could bear, but afterwards brought blessings and joy.
59. For the life, spirit, love, joy and peace of Sara Gitzen. Her message has strengthened many.
60. For the times when married life has been hard. We have gained a better marriage for it.
61. For the times when I have lost jobs. God opened other doors I never would have seen.
62. For the times when I had to rely on God for our next meal. My faith grew & I saw the faithfulness of His provision.
63. For a painful rift in a relationship with a loved one. Old wounds were healed and a stronger friendship was born.
64. The rebellion of children. When they came home, I got to experience the return of the "Prodigal Son" and my relationship with them was deeper than ever.
65. My husband's job took him out of town for a year and a half and I thought I would die of loneliness. But I met and made a new best friend who has blessed my life immeasurably. I would never have met her if my husband had not been gone.
Can you think of times in your life that have been hard; times when you thought you would break. But now, looking back, you can see the blessings that came from those times? These are not maybe the typical things that you would put on a list of things that you are thankful for, but they are indeed precious gifts that came out of the ashes of tests and trials.
Take some time and hop on over to Ann Voskamp's site,
One Thousand Gifts
to see what others are thankful for today.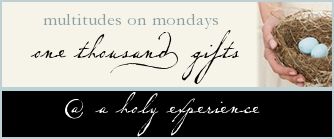 From His lap,