This week I'm remembering all of the heroic acts of Americans on 9/11. There are so many stories of the goodness of men and women who risked their lives to save and assist others that day. Some say, "Where was God that day?" But I say He was there, in the hearts of the people, in thier selfless acts. He was there holding up those towers while many escaped. I'm thankful that Americans came together that day, turned to God and loved each other. To comemorate the 10th anniversary of 9/11, I'm going to take my son and go visit our local fire stations and uniform police divisions and let them know how grateful we are for there service. It is a gift for which I'm thankful!
21. The way my dogs greet me when I come home.
22. The owl in the back yard that "hoots" me to sleep at night.
23. A pastor who teaches me things that I can actually live by.
24. My husband helping me paint all my old kitchen furniture, making it look brand new again.
25. My 15 year old son telling me that he loves me every time he leaves the house and in between.
26. My Nikon D7000
27. A night spent laughing with girlfriends.
28. My wonderful neighbors.
29. Having a car that gets me there.
30. Getting a phone call from an old friend.
31. The cool crisp air that's moving in and wearing hoodie sweatshirts.
32. Taking daytrips around the state with my husband and son.
33. A beautiful flower arrangement made by my sister in law.
34. Having my doctor figure out why I wasn't sleeping.
35. Having a beautiful peaceful bedroom where I can sit and read for hours.
36. My praise & worship music.
37. Having Godly parents who loved each other more than life.
38. Having photo editing software that does for my photos what I cannot do.
39. Finding just what I was looking for at the flea market.
40. Learning not to gripe by wearing my Gripes Be Gone bracelet from
Linda Dillow
.
I love being a part of
Ann Voskamp's One Thousand Gifts
. We are all keeping track and you can find a whole community of thankful people there. I have only gotten through 40 now, so I have a long way to go, but oh, the joy of living a grateful life!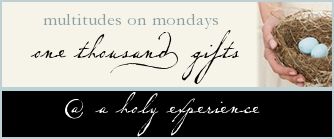 From His Lap,